COVID-19 has changed the way we work and live. In response to the public health emergency, PCF Founder and Chairman Michael Milken is engaging a range of industry leaders and medical experts to help us better understand and confront a crisis that has not only altered our current day to day, but will change the course of how we work, socialize, and fight disease for years to come.
For all podcasts visit https://milkeninstitute.org/podcast
---
Jonathan Simons (President and CEO, Prostate Cancer Foundation) and Esther Krofah (Executive Director, FasterCures)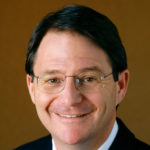 For our 50th recording, Jonathan Simons (President and CEO, Prostate Cancer Foundation) and Esther Krofah (Executive Director, FasterCures) join Mike for a special discussion on how breakthroughs in cancer laboratories are advancing our understanding and possible treatment of COVID-19.
The roundtable features six scientists, from academic medical research institutions and the biopharmaceutical industry, sharing their insights on the TMPRSS2 gene's role as the doorway through which the SARS-CoV-2 virus enters the lung.
That same genetic doorway also happens to play an important role in several forms of cancer. The promising news is that researchers—including those on this call—have learned how to shut that door in other contexts.
---
Richard Stone, Veterans Health Administration
"As we began to see in January the evolution of this virus…we began reorienting ourselves to our inpatient responsibilities and to the potential that the nation would need us to be its backstop in a healthcare system."
Dr. Richard Stone's job title is as clear and direct as the man who occupies it. As the executive in charge of the Veterans Health Administration, the nation's largest integrated healthcare system, he carries the awesome responsibility of protecting the health of more than 320,000 veterans and 360,000 employees.
A combat veteran himself, he offers simple advice to address a worrying trend: "Early on in this pandemic, we began to see veterans canceling their mental health visits….If you know any family member, any friend, who is going through intense social isolation, pick up the phone today."
---
Jonathan Simons, President and CEO, Prostate Cancer Foundation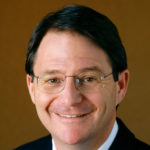 "This is why we all went into medicine—for moments like this where we come together."
For Jonathan Simons and the Prostate Cancer Foundation, global collaboration and team science were a way of life long before the pandemic. The organization's support of groundbreaking science has changed our understanding of cancer—from organ-specific to mutation-specific—and has thus translated into effective solutions for patients across more than 70 forms of the disease.
The hard-won lessons from the war on cancer, Simons believes, will be crucial to solving COVID-19. And he predicts that what we learn from the current surge of collaborative research will save lives from other diseases long into the future.
---
A Conversation with Pam Sharma and James Allison
Mike welcomes two guests on this edition of the podcast: Pam Sharma and James Allison. Partners in marriage and professional collaborators, the couple are leading immunologists who have dedicated their careers to cancer treatment and research. Sharma is an immunologist and oncologist at the University of Texas MD Anderson Cancer Center, while Allison serves as executive director of the Immunotherapy Platform at the same institution.
In their conversation with Mike, they highlighted the primacy of the immune system in fighting COVID-19, the drive to treat the virus with antibodies, and the role patients can play in mobilizing effective research into treatment and vaccines.
---
A Conversation with Dr. David Baltimore, American Biologist
In this episode, Mike speaks with David Baltimore, a Nobel laureate, member of the FasterCures board, and the current president emeritus; Robert Andrews Millikan professor of biology at the California Institute of Technology.
Based on his extensive research into genetics and virology, Baltimore describes the different challenges posed by COVID-19, and how it compares to the progress made on previous public health crises, including HIV, polio, and influenza. While the future is uncertain, he takes comfort in knowing there has never been a larger international effort to fight the virus: "that, alone, makes me optimistic."
---
Steven Rosenberg, National Cancer Institute
"We're perhaps working now at 10% of where we were working before the COVID infections. It's heartbreaking to think what cancer patients are going through as they're watching their cancers grow, and yet have to deal with this threat of the virus and problems in getting access to care."
When Steven Rosenberg joined the National Cancer Institute more than 45 years ago, he was determined to prove that a patient's own immune system could be used to fight cancer. His interleukin-2 therapy was approved by the FDA for cancer in 1992, leading to many more advances and resulting in thousands of lives extended and saved.
Today, this pioneer of immunotherapy is seeking to better understand how to use those same advances to fight COVID-19. "We're taking information that we've learned from cancer treatment and learning to at least control some of the morbidity that occurs from a viral infection, which comes from the vigorous immune reaction and the release of hormones that causes many of the side effects of COVID."
---
Ed Bastian, Delta
"We're working well as an industry, not just within the airline industry, but across the hospitality sector. We want customers to feel confident….People want to move; people want to get out. There's a cabin fever…and we want to make sure we're serving it safely."
Ed Bastian, CEO of Delta Air Lines, remembers all too well how 9/11 affected his industry and his airline, which had to restructure and make difficult cost-cutting decisions. The coronavirus crisis posed a greater threat, but he's confident his airline will bounce back and return to flying 200 million passengers a year.
What gives him confidence is work that began well before the coronavirus crisis—work that developed a culture of trust among his workforce. "This past February we paid our 90,000 employees $1.6 billion; it was the equivalent of a 16% bonus. When times are good, we celebrate; when times are tough, we sacrifice together."
---
Tomislav Mihaljevic, Cleveland Clinic
"The unfortunate, almost tragic, paradox of this situation is that 1.2 million healthcare professionals in the United States have lost their jobs because of the financial strains that the COVID pandemic put on healthcare organizations."
For the 99-year-old Cleveland Clinic, the care of their patients is equaled only by the emphasis they place on the health of their own workforce. Their thorough preparation and procedures have resulted in a less than 1% infection rate, compared to roughly 20% of all healthcare workers throughout the rest of Ohio.
The venerable hospital system has also chosen not to lay off any employees, even as they were state mandated to cut all non-essential services. Unfortunately, even the essential services have suffered, with steep declines in newly diagnosed patients with cancer, cardiovascular disease and neurologic disease. "The unintended consequences of the COVID pandemic," he tells Mike, "may be much more severe than the actual damage and the loss of lives incurred by COVID pandemic."
---
David Siegel, Two Sigma
"This experience is a grand experiment in online work, online education, online shopping. You really couldn't have created a better experiment, and we're learning an awful lot. Not everything is working so well, and some things are working really well."
Ever since tinkering with punch-card computers at age 10, David Siegel has had a fascination with data. He co-founded and co-chairs Two Sigma, a data-focused financial services company, and he's also chairman of the Siegel Family Endowment, which supports organizations that help prepare society for the impact of technology. He spoke with Mike Milken on Monday, May 18, 2020.
While technology speeds communication, Siegel sees areas for improvement: "I think that social media and the overall format of the internet and how we communicate has been turned into really just little snippets of information often without context….I really am not sure how we can convince our society to spend a little bit more time digesting what's going on around them. That would be a really important change for the better."
---
Paul Romer, Nobel Laureate
"The fundamental decision that every society has to make is, can we suppress this virus forever if necessary? Can we afford to do that?…If you know that you're going to give up, there's no point to suppress for a while."
Nobel Prize-winning economist Paul Romer is accustomed to seeing the big picture of a problem—and offering big solutions. In the case of COVID-19, he proposes a comprehensive "test and isolate" policy that would keep the infection rate low while allowing the economy to ramp up.
He also proposes two billion-dollar national prizes to scale up testing: one for "the first lab that can process 10 million tests per day" and another for a simple, home-based test "so everybody could just test themselves and find out if they or any of their family members are infectious."
---
Christopher Austin, NCATS
"Are we going to require the same level of evidence for a vaccine…before it is approved? Could we potentially begin to use it at the same time we're still studying it? Normally we would never do that, but it's this kind of translational innovation that this COVID crisis is making not only possible, but needed."
How do simple scientific observations—from the laboratory, clinic, or the community—become therapies and cures? It's called translation. Since 2012, one of the 27 institutes and centers of the National Institutes of Health has been dedicated to doing just that. As director of NCATS, Christopher Austin oversees a vast ecosystem of research, analysis, and innovation to accelerate cures and therapies to those who need them most.
Austin sees the current pandemic as a turning point for greater data sharing and team science. "We are seeing that on a scale I have never seen across NIH, across government agencies, and with the pharmaceutical and biotech industry," he tells Mike. "We have a singular moment when everyone realizes the need for faster cures and the limitations of the current system to deliver them."
---
Brent J. McIntosh, Under Secretary for International Affairs, U.S. Department of the Treasury
"In America, we don't look to the government alone to develop the solutions. We look to the creativity and ingenuity and vitality of the private sector, whether it's corporations or philanthropic organizations for many of those solutions."
In normal times, Brent McIntosh's charge at the Treasury Department is to advance America's economic interests abroad. Today, that mission includes extending a helping hand: McIntosh was instrumental in getting the G7, the G20, the World Bank, and the IMF to relax debt service payments from struggling nations so they could focus on caring for their citizens.
McIntosh has also been focused on solutions closer to home: "It's a very difficult challenge to make sure those supply chains can function, but they are functioning…in part because we've put in place many efforts to keep cargo flights moving, to…keep the ports open, and to treat the workers in those supply chains as essential."
---
Strive Masiyiwa, Econet Group
"Public health will not be able to cope with this pandemic if it becomes a major crisis of the scale that we have seen in the West and in China. There's almost nothing we can do about it because we just don't have time. But it has been a massive wake-up call."
Strive Masiyiwa is in a race against the clock. The Zimbabwean-born businessman, entrepreneur, and philanthropist is working to shore up medical and food supply chains so African nations can manage a possible surge of coronavirus cases. For Masiyiwa, the stakes could not be higher.
"We all need to help Africa navigate itself through something which is not of it's making and is affecting us," he tells Mike. "And this is where we really need some global thinking and audacious thinking. Because if we don't think how to help Africa through this, it could be a very difficult next two or three decades and it doesn't have to be so."
---
Henry Waxman, Former Congressman
"Explain things in a credible way so that the public understands why they're being asked to do things. You can't force people – especially Americans – to do things they refuse to do."
When he retired from the U.S. House of Representatives after four decades of service, Henry Waxman was considered one of the most influential and effective legislators of his era. He championed such issues as the environment, clean energy, and government oversight, sponsoring 48 bills that made it into law. The congressman chaired the first hearing on HIV/AIDS in 1982, as well the tobacco industry hearings 12 years later, demonstrating a commitment to public health that continues to this day.
"We need to change our public health system," he tells Mike. "We need to make sure that everybody's covered. We need to do contact tracing. … We tackled other pandemics in the United States much more successfully and we've got to be able to have a public health system that will allow us to do that."
---
Esther Krofah, FasterCures
"We spend numerous hours a day updating that tracker because what is critical is real-time information that researchers and scientists can respond to….As I've been speaking to colleagues, ranging from NIH to these large companies, they're using that daily in their prioritization exercises to determine what they can accelerate and what the potential opportunities are."
Keeping track of rapid-pace global developments in treatments and vaccines for COVID-19 may seem to be an uphill battle. But since February, Esther Krofah's team at FasterCures has been producing exactly that: a real-time tool that, as of late May 2020, is monitoring development of more than 200 treatments and 140 vaccines.
Krofah, who assumed her leadership role just months before the coronavirus crisis, continues to build on the organization's legacy of partnerships with government, industry, and patient groups: "We believe time equals lives, and so these organizations, these institutions, have been part of our journey over the last almost three decades. And as we come to a time like this with COVID, we need that foundation of trust….There's that recognition that individuals, families, patients is what drives us day-in and day-out."
---
Gene Block, UCLA
"Normally about 14,000 students live on our campus in our dormitories and that's down to I think less than about 900 students….The campus has taken on an eerie feeling of really being abandoned."
Big changes are afoot at UCLA, America's number one-rated public university. Chancellor Gene Block has already seen an 85% reduction of his on-campus workforce, and with a record of 5,000-plus classes currently being taught online, he anticipates further, more permanent alterations to the way students obtain higher education.
There is one tradition, however, that Chancellor Block believes should remain intact. "Commencement is really important for students. It's a sense of closure. It's also a sense of new beginnings. It really completes one phase of their life and begins another, and we're going to make certain that our students get that experience even if it's somewhat delayed."
---
John Mazziotta, UCLA Health
"One day, for the first time in my 39 years, there were no patients in the emergency department. It was a Sunday morning. Never seen that in my life….Heart attacks, strokes, mental illness—these people were not coming in….There are a lot of deaths that are indirectly going to be associated with COVID-19 even though the patients never had the infection."
As the vice chancellor of UCLA Health Sciences and the CEO of UCLA Health, John Mazziotta helms one of the crown jewels of California's formidable medical research and health care ecosystem. When the crisis erupted, his hospitals prepared to be a major hub for the region's most challenging cases. Fortunately, that anticipated influx never came; however, for UCLA and for hospitals and patients everywhere, Dr. Mazziotta sees consequences that will reverberate for years.
But his concerns about the collateral damage of COVID-19 are at least partially offset by his prognosis for the future: "I'm actually extremely optimistic about how we come out of this," he tells Mike. "I don't think there's anything in medicine that will look the same after the pandemic….I've told that to the faculty, I've told that to the staff, and we have to figure out a way to do the new world of medicine more efficiently, more effectively and have the end result be better for patients, trainees and scientists."
---
Piyush Gupta, DBS
"Most times your right or your requirement for personal privacy trumps other kinds of needs. But a pandemic is…when it becomes quite clear that sometimes the needs of the collective, the needs of society, trump the needs of the individual."
As the CEO and Director of DBS Group, a financial services firm operating in 18 countries throughout Asia, Piyush Gupta is known for anticipating and staying ahead of current trends in banking. When the pandemic hit, DBS quickly built upon the digital platform Gupta had already implemented.
Gupta's effective stewardship of the 52-year-old firm—formed as the nation's development bank—echoes Singapore's overall management of the crisis: "Even though we now have about 20,000 cases, the actual number of fatalities are only 20," he tells Mike. "With good medical treatment and good health systems, you can actually manage the virus relatively well."
---
Admiral James Stavridis
"The US and China, particularly in 2020, are on something of a collision course….We should confront where we must, we should cooperate where we can, and we should be clear-eyed that we're in for a period of real tension."
A retired 4-star, Admiral James Stavridis has not lost his focus on the future of geopolitics and American national security. Recently, the former Supreme Allied Commander of NATO has turned his attention to how a pandemic will alter the world order and how America might navigate the crisis.
"Europe will come out of this at worst neutral [and] China will come out clearly in a stronger position," he tells Mike. "For the United States, we need to avoid the mistake of leaning too far toward isolationism….That's going to be crucial for the United States in this 21st century."
---
Tal Zaks, Moderna
"In this fight, where we are today—this is May of 2020—there's a lot of other companies and a lot of other approaches that are trying to generate vaccines. I wish them all success, and we all need to be successful here. I have only two competitors in this race: the virus and the clock."
If developing a COVID-19 vaccine were a race, Tal Zaks and Moderna Therapeutics won the first leg. It took them only 63 days from the time the virus was sequenced until they had a new vaccine in human clinical trials. So impressed was BARDA—the US Biomedical Advanced Research and Development Authority—that they awarded Moderna $483 million to begin producing the vaccine should it gain FDA approval.
Their vaccine uses messenger RNA (mRNA) to 'reprogram' the kinds of proteins a cell expresses—a potential game-changer. "You can make a completely different kind of drug and a completely different kind of vaccine with it," Zaks tells Mike. "And with that you can go after targets that traditional medicine has found really hard to target."
---
Richard Hatchett, CEPI
"When I was working at ground zero, I saw a level of cooperation and willingness for everybody to sort of check their egos at the door because we knew that we were all facing an external threat. And that's exactly what we're seeing today. We're all in this together."
For Richard Hatchett, 9/11 changed everything. While serving as an oncology fellow in New York City, he quickly found himself on the front lines tending to the injured. He never looked back, shifting his focus to public health and toward helping as many people as possible deal with external threats. Today, as CEO of the Coalition for Epidemic Preparedness Innovations (CEPI), he coordinates between multiple sectors to ensure that emerging vaccines are safe, effective, and readily available to all who need them.
"We wanted speed, we wanted vaccines that could scale, and we wanted to be able to ensure global access to those vaccines," he tells Mike. "And so what we've ended up with is a deliberately diversified portfolio to overcome this pandemic."
---
Ynon Kreiz, Mattel
"Play is never canceled. You can cancel school, you can suspend retail stores or close movie theaters, but you cannot cancel play."
For Mattel CEO Ynon Kreiz, taking the helm of one the world's iconic companies two years ago was a privilege and a responsibility. In the age of COVID-19, he views the company's mission as more important than ever to help children—and their parents—navigate the challenge.
The company has even launched a special line of action figures called Thank You Heroes, which, as Kreiz describes to Mike Milken, "celebrates the individuals that are part of the frontline fight against COVID-19….We are contributing all net proceeds to a charity called First Responders First."
---
Roger Crandall, MassMutual
"You start by taking care of your people. Your people then can take care of their families and loved ones. That's how communities get taken care of. And that's kind of the building blocks that we see as being critical here."
For MassMutual's Roger Crandall, leadership in times of a pandemic means more opportunities to help policyholders and employees create virtuous cycles. Under his stewardship, the venerable life insurance company has offered $3 billion of free life insurance to frontline workers—a program he hopes to expand.
Crandall finds optimism in the federal Paycheck Protection Program and similar efforts: "This is American business and American 'can-do-ism' at its finest, in my opinion. So, I'm actually very optimistic that this can remind everybody of the ability of the public and private side to work together to get us to a better place."
---
Thomas Gottstein, Credit Suisse
"I was deeply impressed. They managed much bigger volumes than in any normal period, and we were really very proud and still are very proud how our fixed income and equity traders managed these challenges, because it was certainly not an easy environment."
Thomas Gottstein became CEO of Credit Suisse on February 14, 2020. Within three weeks, the world had changed, and he found himself leading the storied firm through the uncharted waters of a pandemic. Moreover, Credit Suisse took a leading role in developing and executing its nation's rescue package.
Gottstein, a 20-year veteran of Credit Suisse, understands the occasion to which his industry must rise: "Since the financial crisis, there were a lot of negative comments about the role of banks….This crisis has helped us to emphasize the importance that banks can play in supporting the broader economy and supporting private individuals, corporates or institutions in times of crisis."
---
Freda Lewis-Hall
"One of the other things that has come to light with regards to COVID-19 are health disparities….in the infection rates and the hospitalization rates and in the death rates of certain communities."
As a young African American girl growing up in the early 1960s, Freda Lewis-Hall was accustomed to people telling her that she would never attain her dream of becoming a doctor. Today, she can look back at a 35-year career that included serving as Pfizer's Executive Vice President and Chief Medical Officer, where she was a passionate advocate for health equity and improved outcomes for all patients.
Trained as a psychiatrist, Dr Lewis-Hall is particularly concerned about the impact COVID-19 is having on communities who are disproportionately affected with higher mortality rates, and who perform much of what we now consider essential frontline work. "From nursing staff and medical staff, EMTs, people who are working in grocery stores, who are picking up the trash, driving public transportation—these people are at exposed risk. They know it, and they're also dealing with the emotional disadvantage of facing this every day."
---
Stephen J. Cloobeck
"The consumer is resilient. Vacations are mandatory. I believe the cruise business within a year will be back. I truly believe that. And I believe the [Las Vegas] Strip will be back within that period of time too."
As the founder of Diamond Resorts International and the former chairman of Brand USA—the nation's first public-private partnership to promote tourism—Nevada native Stephen J. Cloobeck has led the hospitality industry through good times and bad.
As he consults with companies and governments about COVID-19, he's focused on guest safety, transparent communications, and the resilient nature of the human impulse to explore the world. He's also a realist when it comes to reopening the nation: "If you're looking for a perfect solution, it doesn't exist."
---
David Solomon, The Goldman Sachs Group, Inc.
"This is a demand shutdown in the economy that's affecting all businesses….If you're a small business, your access to capital in some cases can be limited, [so] that's why getting resources to these small businesses that employ so many is so, so important."
For David Solomon and Goldman Sachs, helping small enterprises navigate the crisis requires access—to expertise, education, and capital. The firm continues its 10,000 Small Businesses program and has pledged more than half a billion dollars to support community lenders.
These days, Solomon's particularly focused on creating outcomes that are sustainable and equitable: "Whenever you go through a crisis," he tells Mike, "disadvantages are amplified. We continue to try to find ways that we can make sure that resources, including capital and business allocation, are directed to women-led businesses."
---
Vivek Ramaswamy, Roivant Sciences
"Seeing my own family members in New York go through what they're going through has…not only turned our personal life upside down, but also has turned upside down…the near-term priorities of our company to help do our part in addressing this pandemic."
When Vivek Ramaswamy was only 28, he founded the pharmaceutical company Roivant Sciences. When COVID-19 hit New York City, his wife was a frontline medical worker—and pregnant with their son. The child was born healthy, but his wife and father-in-law soon tested positive for the virus. They are still recovering.
As Ramaswamy manages his company from a home in Ohio, the man who graduated summa cum laude from Harvard muses on life's hard-earned lessons: "Things don't always go as you expected, but you rise to the occasion in the best way you can."
---
Adam Boehler, DFC
There are places in the United States now with little to no cases, and if the states have the ability to do contact tracing with some testing to ensure that if there's a flare we can move quickly, then I think it's fine to open up now as long as one could take very quick action.
"We're testing 200,000 Americans a day. That's an 80x increase, and we've done 5.2 million tests to date. That's not only number one in terms of number of tests that we're at from a country basis, it's number one on a per capita basis."
As CEO of the U.S. International Development Finance Corporation, Adam Boehler focuses on using finance to solve challenges in the developing world. These days, he's also helping his own country navigate the crisis by accelerating testing and strengthening supply chains.
An entrepreneur himself, Boehler's been especially proud of the private sector's response: "We get asked all the time, how come we're not throwing Defense Production Act orders all over the place and just commandeering and taking over. It's not necessary when you have our private market taking all the right actions."
---
Francis deSouza, Illumina
"The first genome sequence of the virus that was published on January 12th online was done on Illumina machines, and so we have been working on this outbreak [since] well before it became a pandemic."
Sequencing DNA quickly and cheaply has revolutionized medicine with new cures and therapies that have extended and saved lives. As president and CEO of Illumina, Francis deSouza has been at the forefront of these advances and is leading his company toward new applications that can help fight a pandemic.
He and Mike discuss how to get the world back to work, how many genomes may actually be present in our bodies, and a novel way of safeguarding the world's data: "DNA has been optimized by nature to be the best storage medium out there and it's only a matter of time before we use it ourselves for the data that we generate."
---
Rodney McMullen, Kroger
"We made the decision to share publicly all the work that we were doing internally in case it could be helpful….We're trying to pay it forward just like others paid it forward to us."
When Rodney McMullen took a high school job bagging groceries at his local Kroger, he had no way to know he'd go on to lead the company—now one of America's largest employers. Another surprise in his American Dream story: that his associates would one day be frontline heroes in a global pandemic.
And the company itself is playing a hero role. As so many businesses struggle and lay off workers, Kroger's hiring 60,000 new employees. "A lot of those people…come out of the food-service industry, come out of working in small medical professions, or for veterinarians….People that are naturally inclined to serve others. So that's one of the things that's really helped us maintain our values."
---
Barbara Humpton, Siemens USA
"We often talk about Siemens as being a company that was built to serve society. And that mission really hasn't changed….We have real expertise in electrification, automation, and digitalization. And that's all coming into play right now as the nation wrestles with COVID-19."
Hospitals. Factories. Data centers. Government facilities. If it's an essential service or industry in this country, chances are Siemens USA is helping to power and maintain it. As president and CEO, Barbara Humpton has overseen major changes to how her 50,000 employees stay safe as they #KeepTheLightsOn for everyone else.
Throughout the pandemic, she has not lost sight of what is truly at stake: "We're going to find ways to accommodate, ways to adapt, but the really critical thing is to connect and care because I think the empathy we show one another right now is going to be the most important medicine we can offer."
---
Ray Dalio, Bridgewater Associates
"A financial bomb has gone off. And then you have to say, okay, who are you going to help first?…Choices have to be made. The real question is whether we can do that together in a bipartisan way, in a skillful way, because there's enough money and credit to go around and this can be done."
For master investor Ray Dalio, COVID-19 presents a unique opportunity to create greater fairness in our system. The founder of Bridgewater Associates—the largest hedge fund in the world—sees outright threats to the American Dream rising from wage disparities and environmental degradation.
Top among his preferred national reinvestments would be the great equalizer: "You want to enable as many people as possible to have equal opportunity [for] education. That's number one. And then establishing a minimum acceptable living standard and poverty level that they can't go below, particularly their children….I think we could do that."
---
Bruce Broussard, Humana
"Many of our members are alone and in their homes, and that can become quite an impact on their mental health. Having a phone call and being able to talk to somebody sounds so simple, but has been so impactful."
As president and CEO of one of America's largest health insurance companies, Bruce Broussard considers every aspect of care for Humana's more than 20 million members. These days, he's especially focused on making sure his 65-and-over members have their basic needs covered: access to food, prescriptions, and basic medical care—and helping them avoid loneliness.
Soon into the crisis, he initiated a 100-CEO roundtable to learn and share, and it's given him hope: "The general business community has come together in so many different ways….This ability to create a system that is oriented to a common ground has just been so powerful, so powerful."
---
Joe Tsai, Alibaba
"When we reopened, we were very tentative about letting people back into the office….You have to show your health code, which is attached to the Alipay app. It'll show a green, yellow, or red code; basically it reflects a lot of data—where you've been, who you've been with."
If you've never heard of Alibaba, chances are you aren't one of the 700 million active annual consumers living in China who rely on the company for e-commerce, online auctions, technology and business services, entertainment, and even grocery shopping. Keeping Alibaba's 100,000 employees healthy is a priority for co-founder Joe Tsai, and he's wary of going too fast, too soon.
"China doesn't publish testing data, but our estimate is that there are at least 20-25 million tests that have already been done….If you open up and you cannot detect, trace, and isolate infected patients, then it's going to be a disaster."
---
Tom Wyatt, KinderCare Education
"[Our teachers] write me, they call me, they are so taken aback by the grateful comments they get, the emotional letters and emails they get from the doctors and nurses and others saying that they could not be doing their work without our support."
With more than two-thirds of his 1,500 KinderCare centers now closed, Tom Wyatt feels it is his civic duty to keep the remaining ones open to serve the children of parents who must work—including those on the frontlines. That sense of responsibility—to community and to nation—is to be expected from Wyatt, who left his highly successful leadership career in retail to pursue a calling in early childhood education.
Surveying the consequences of the current pandemic, Wyatt points to a significant impact that's often overlooked: "The emotional stress on children today," he tells Mike, "may be even more critical than the academic loss."
---
Kurt Newman, Children's National Hospital
"We've been around for 150 years and we want to be around for another 150 years. So we'll figure out a way to deal with the finances. Right now we're just focused on doing the right thing for these kids and families."
Putting patients first—in this case, young patients who often require special care and immediate attention—has long been Kurt Newman's priority at Children's National. This conviction has held true through the unprecedented health and economic challenges presented by the coronavirus crisis.
Indeed, Newman recounts the unique way one of his nurses was able to help a young patient: "She had tested positive, went through the illness, returned to work…She donated her plasma to help take care of one of our patients. And it turned that child around. That's the commitment and courage that these frontline workers have."
---
Rob Manfred, Major League Baseball
"They may not be perfect with large crowds at Dodger Stadium. It may look a little different. But I really am committed to the idea that it's important as part of our recovery to get the game back on."
A month after what would have been opening day, the national pastime remains in limbo. For Commissioner Rob Manfred, deciding when to play ball this year means reflecting on the example set by his predecessor after 9/11, when baseball helped bring Americans together. Just like then, he tells Mike, "baseball can be kind of an important milestone in the return to normalcy."
In the meantime, a spirit of shared sacrifice is helping those throughout the MLB family: Manfred's own senior staff took pay cuts so other employees would be taken care of; team owners created a $30 million fund to assist game-day workers; and the Pennsylvania factory that makes MLB uniforms was retooled to produce masks for first-responders.
---
Page 2
.